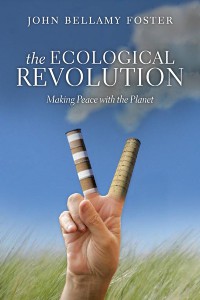 "The Ecological Revolution: Making Peace with the Planet," (New York: Monthly Review Press, 2009), 319 pp.
Awards:
Winner of the Greald L. Young Book Award of the Society for Human Ecology, 2010.
Editions:
Edited French-language editon, entitled Marx Écologiste. Amsterdam Press, 2011, includes chapters 8-11.
Translations:
German translation Hamburg: Laika-Verlag, 2012.
Bangla translation being published in India by Cornerstone Books, Kharagpur.
Final chapter reprinted in Briarpatch magazine, July/August 2009.
Korean translation being translated by Dae-Han Song for the Korean Alliance of Progressive Movements.
Chinese translation forthcoming from Renmin Press.
Since the atomic bomb made its first appearance on the world stage in 1945, it has been clear that we possess the power to destroy our own planet. What nuclear weapons made possible, global environmental crisis, marked especially by global warming, has now made inevitable—if business as usual continues.
The roots of the present ecological crisis, John Bellamy Foster argues in The Ecological Revolution, lie in capital's rapacious expansion, which has now achieved unprecedented heights of irrationality across the globe. Foster compellingly demonstrates that the only possible answer for humanity is an ecological revolution: a struggle to make peace with the planet. Foster details the beginnings of such a revolution in human relations with the environment which can now be found throughout the globe, especially in the periphery of the world system, where the most ambitious experiments are taking place.
This bold new work addresses the central issues of the present crisis: global warming, peak oil, species extinction, world water shortages, global hunger, alternative energy sources, sustainable development, and environmental justice. Foster draws on a unique range of thinkers, including Karl Marx, Thomas Malthus, William Morris, Albert Einstein, Hannah Arendt, Rachel Carson, Vandana Shiva, and István Mészáros. The result is a startlingly radical synthesis, which offers new hope for grappling with the greatest challenge of our age: what must be done to save the earth for humanity and all living species.
Reviews:
In this time of growing ecological and economic crisis, John Bellamy Foster's voice stands out like no other. In his new book, The Ecological Revolution, he demonstrates that questions of ecology cannot be separated from questions of economics, and that building a truly sustainable future means putting people and the planet before profit.
Foster is the most systematic thinker on red-green politics writing today—and he is quite clear about What is to be done! In these essays, he applies Marx's theory of metabolic rift to elucidate a variety of contexts—the Pentagon's pursuit of oil, neoliberalism and the Jo'burg Manifesto, the poverty of contemporary sociology, imperialism and ecological debt, critique of the New Sustainability Paradigm—all the while keeping his synthesis of historical scholarship, natural scientific detail, and Marxist theory readily accessible to a wide readership. Here is reason and discipline driven by passion and care.
Author of Ecofeminism as Politics, Editor of Eco-Sufficiency and Global Justice, and Co-editor of the journal Capitalism Nature Socialism
In The Ecological Revolution, John Bellamy Foster rightly shows the inadequacy of the technological approaches to which the capitalist response to the ecological crisis is limited, raising the question of a wider revolution in ecology and community. In the process he puts to rest the widely held assumption that Marx and Marxists have little to contribute on the ecological crisis. His book demonstrates that Marx addressed the ecological issues with keen insight and that the historical materialist ecological tradition is alive and relevant today.
Co-author with Herman Daly of For the Common Good: Redirecting the Economy Toward Community, The Environment, and a Sustainable Future
For fifteen years, in the books The Vulnerable Planet, Marx's Ecology, and Ecology Against Capitalism, Foster has warned us of capitalist ecological catastrophe. With accessibility, grace, and a powerful intellectual punch, this new collection tackles the neoconservative petro-military complex of the Bush years sandwiched between Clinton-Gore-Obama's pernicious eco-neoliberalism. Foster's searing denunciations of environmental commodification give us confidence to fight bourgeois economic ideology—from the likes of Thomas Friedman, William Nordhaus, Larry Summers, and Nick Stern—and to demand an eco-socialist future.
University of KwaZulu-Natal, Durban
This book is a major achievement. It combines enormous breadth of scholarship with consummate theoretical integration to produce a powerful political argument. It should be required reading for anyone who cares about the future of humanity and the planet – that is, everyone!