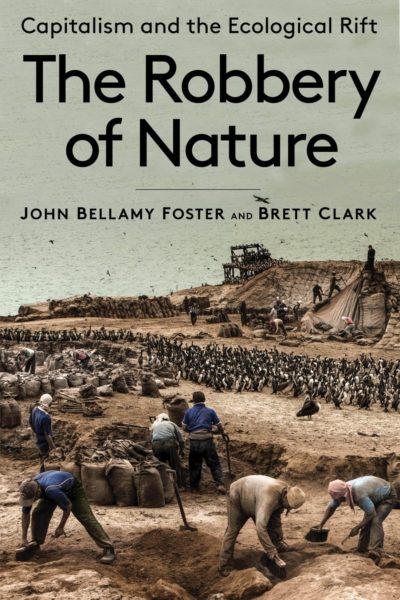 The Robbery of Nature: Capitalism and the Ecological Rift (coauthored with Brett Clark) (New York: Monthly Review Press), January 2020.
Consists of eleven chapters mostly based on articles previously published in Monthly Review 2016-2018, all developed around a central theme and developed into an argument in book form. Nine of the articles/chapters have been previously published, two will first appear in this book. Seven of the chapters in the book were written (or are being written) by the two authors together, three were originally written by Foster as sole author.
In the nineteenth century, Karl Marx, inspired by the German chemist Justus von Liebig, argued that capitalism's relation to its natural environment was that of a robbery system, leading to an irreparable rift in the metabolism between humanity and nature. In the twenty-first century, these classical insights into capitalism's degradation of the earth have become the basis of extraordinary advances in critical theory and practice associated with contemporary ecosocialism. In The Robbery of Nature, John Bellamy Foster and Brett Clark, working within this historical tradition, examine capitalism's plundering of nature via commodity production, and how it has led to the current anthropogenic rift in the Earth System.
Departing from much previous scholarship, Foster and Clark adopt a materialist and dialectical approach, bridging the gap between social and environmental critiques of capitalism. The ecological crisis, they explain, extends beyond questions of traditional class struggle to a corporeal rift in the physical organization of living beings themselves, raising critical issues of social reproduction, racial capitalism, alienated speciesism, and ecological imperialism. No one, they conclude, following Marx, owns the earth. Instead we must maintain it for future generations and the innumerable, diverse inhabitants of the planet as part of a process of sustainable human development.
This extraordinary work demonstrates, in clear and lucid prose, that capitalism is setting out doom for all of us, flora and fauna alike, and that a cooperative society is our only salvation. A book for popular readers and scholars alike, it will be widely recognized as an instant classic.

Emerging from one of the most generative collaborations in the ecosocialist tradition, this collection of essays by John Bellamy Foster and Brett Clark represents a critical step forward in theoretical development and recovery, with immediate relevance to contemporary political movements and debates. Foster and Clark beautifully reveal the power of historical materialism to lay bare the connection between ecological degradation, speciesism, and social domination, and therefore the necessity of a struggle that does not artificially isolate in theory and practice what is joined in reality. This is a book for serious activists seeking to understand the world in order to change all of it that needs changing, so that every living being on earth may not only survive, but finally, be free.

Long recognized as leading theorists of ecomarxism, Bellamy Foster and Clark here extend their "metabolic rift" paradigm to an impressive range of issues, including gender, food, British eco-imperialism in Ireland, "alienated speciesism," the theory of value, and the meaning of work. The result is a powerful case that capitalism is inextricably bound up with the robbery of nature and constitutes the paramount obstacle to life on Earth as we know it.